How to Print Multiple Photos from iPhone (iPhone 7 included)
There's nothing more satisfying than holding precious pictures in your hand or even seeing them displayed as an artwork on the wall, what to do next? This article is about how to print photos from iPhone to make hard copies of your favorite images.
Part 1: Print iPhone Photos via Photo Printer for iPhone
The Photo app on your iPhone lets you to do almost anything with the pictures you have stored, including printing them with built-in AirPrint, which is the default option for printing documents and photos from your iOS device.
1. Open up the Photo app on your iPhone.
2. Click on the photo that you would like to print.
3. Tap on the Share button in the in the lower left-hand corner.
4. Select "Print" from the last bar of icons.
5. Tap on Pint and the iPhone will automatically detect AirPrint-enabled printers nearby.
6. Enter the number of copies that you like to print and tap on print.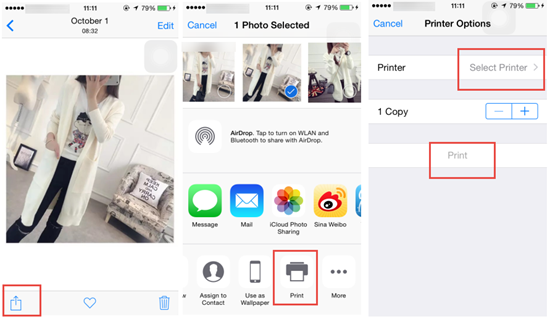 Part 2: Print Pictures from iPhone with Free iPhone Photo Extractor
One question that comes to mind is you don't have Air-printer or you think it too expensive to purchase an Air-printer separately only for temporary use of printing photos. Here we supply an alternative solution to extract photos from iPhone backup to computer with iPhone Backup Extractor, which allows you to extract any data from iPhone backup, including contacts, text messages, notes, etc.
1. Sync your iPhone with the latest version of iTunes.
2. Launch Free iPhone Photo Extractor on computer and select the iPhone backup file that you synced with iTunes just now.
3. Select "Camera Roll", "Photo Stream" and "App Photos" and click Next to scan.
4. After scanning, preview and check the photos that you want to print and tap on "Recover" to export photos to pc.
5. Open up the output folder and right-click each photo to choose Print from the pop-up menu.
6. Here is a new window for you to choose printer, paper size, quality, paper type, photo layout, and the number of times to print each picture.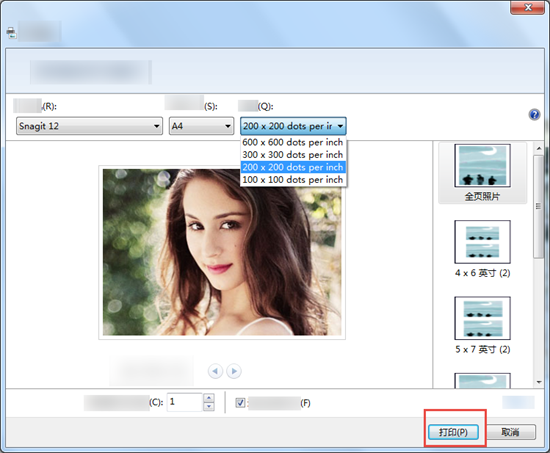 Part 3: Directly Print Photos from iPhone Using PrintCentral Pro
PrintCentral Pro is another way you can directly print images from iPhone to wireless printers on your Wi-Fi network. You can print documents and images as well as calendar, emails, attachments, contact list, web pages from PrintCentral Pro without switching apps.
1. Open up this application on your iPhone.
2. Tap "Photo Album" on the PrintCentral Pro screen.
3. Select the photos that you want to print and click on the "Print" icon on the screen.
4. Now your printer will print selective photos using PrintCentral Pro.