Free Ways to Extract and Recover iPhone Contacts from Backup
If your iPhone crashes and erases your saved contacts, don't despair. You can easily recover contacts from iPhone backup, provided you have a backup available. Here I will show you some free ways to recover and extract contacts from iPhone backup.
Tip: Please don't sync your iPhone with iTunes/iCloud unless you find an appropriate way to recover lost contacts. Or the backup file will be updated and the deleted contacts may lose forever.
Way 1: Recover iPhone Contacts from iTunes Backup
Restoring contacts from a previous backup created in iTunes saves you the time and effort. On your PC, simply run iTunes and connect your iPhone to the computer, then navigate to File > Devices > Restore from Backup.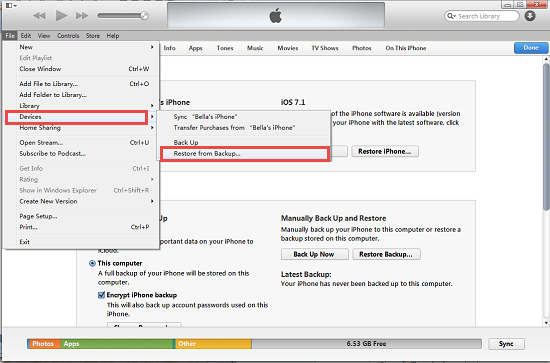 Pros: Convenient and easy-to-handle. No third-party applications required.
Cons: Restoring iPhone from iTunes backup will not only recover contacts, but also text messages, call logs, photos, videos, and more. There is no option to select what you want. Besides, it will overwrite your current data and settings with those in the backup.
Way 2: Restore Deleted Contacts from iCloud Backup
It has great possibility that you can recover deleted contacts from iCloud backup if you have synced iPhone with iCloud before. On your iPhone, go to Setting > General > Reset > Erase All Contents and Settings, and then click "Restore from iCloud Backup"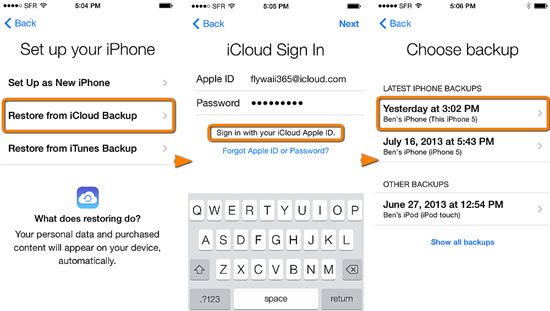 Pros: iCloud allows you retrieve the lost contacts separately rather than get all backup data back. Also, you can extract contacts from iCloud backup in the form of vCard.
Cons: iCloud backup provides only 5GB of free storage. If you need more space to backup large files, you are requested to make a payment. The extracted .vcf file is unreadable.
Way 3: Use iPhone Backup Extractor Freeware
If by any chance that you have lost not only the contacts, but your iPhone, or your iPhone was physical damaged, then you can't restore iPhone from iTunes backup. Here, I recommended a totally free and powerful tool to you: iPhone Backup Extractor Free. The program can help you extract contacts from iTunes backup free in three simple steps: Select Backup File > Specify File Types > Extract Data.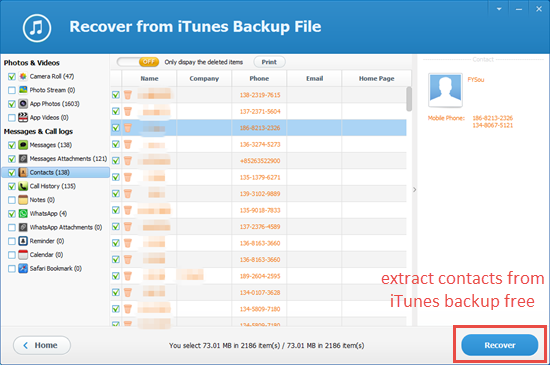 Pros: You can extract contacts from iTunes backup free without connecting iPhone to the compute. You are allowed to preview the contacts before recovery. You can selectively extract and recover contacts from iPhone backup as you want. If you want to extract text messages from iPhone backup, this freeware can also do you a favor.
Cons: This Free iTunes Backup Extractor can only extract contacts from unlocked iTunes backup. If your iTunes backup is password protected, you need upgrade to the pro version to extract contacts from iPhone backup. Besides, this freeware will restore your contacts to your computer, not to your iPhone. If you want to restore contacts from iTunes to iPhone directly, Phone Transfer software is recommended.
More Options: Sync Contacts from Facebook and Twitter
If you failed to get back contacts in above ways or you didn't have your iPhone data backed up. Another way is syncing Facebook and Twitter contacts with iPhone.
Using Facebook as an example: On your iPhone, navigate to Setting > Facebook, and then logo in your Facebook account. Make sure the contact switch under "Allow theses Apps to Use Your Account" is set to ON, you will find a button "Update All contacts" at the bottom, click it to complete synchronization.