iPhone Won't Sync with iTunes after Upgrading to iOS 9? How to Fix
"Okay, I just updated my iPhone 6 to iOS 9.2 two days ago. Now I want sync music from iTunes to my iPhone. The iTunes is recently updated. When I start syncing music, it won't work. Is there anything I can do to fix this? Please help!"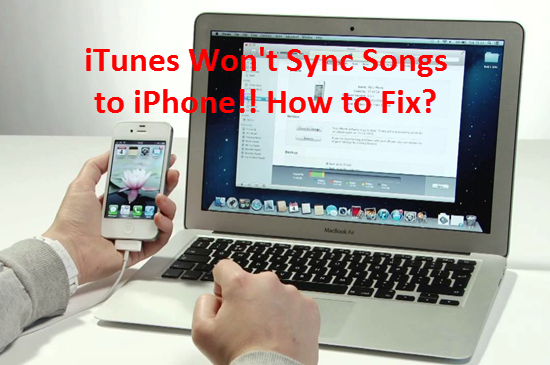 Have you ever encountered this iTunes sync problem? Since upgrading to iOS 9 (9.1, 9.2), many users have reported such issues when it comes to syncing music with iTunes. Having an iPhone that won't sync with iTunes is a real pain. Thankfully, this article will show you common tips that you can try to fix iTunes sync error:
1. Update Your iTunes to Latest Version
Apple routinely releases updates to iTunes to fix common problems, and sometimes updating your iTunes to the latest edition can quickly fix iTunes won't sync music issue. Click here to learn how to update iTunes.
2. Try a Different USB Port & USB Cable
Sometimes the USB port goes bad and makes your iTunes won't transfer music to iPhone. All you need to do is switching the USB cable from one port to another and see if it works. Also, try using a different USB cable. Some of your cables can malfunction and lead to sync errors.
3. Re-Authorize iTunes on Your Computer
iTunes uses an authorization system to ensure only 5 computers can access your purchased music, videos and other media contents at any time. If your iPhone fails to sync with iTunes, the Sync button is greyed out and not available at all, you can simple re-authorize the computer with iTunes in the Store menu.
4. Turn Off iCloud Music Library & iTunes Match
iTunes won't let you to sync music to iPhone is iCloud Music Library or iTunes Match is turned on. If that's the case, you should disable iCloud Music Library and iTunes Match in your iPhone's Settings > Music. After that, you can try syncing your iPhone with iTunes like normal.
With In the End:
If the solutions above can't solve "iTunes won't sync songs to iPhone or iPod" problem, try an iTunes sync alternative – Jihosoft Phone Transfer. It is great tool that works like iTunes, allows you to transfer music from iTunes to iPhone/iPad/iPod without replacing any existed data on device. In addition, it can do what iTunes can't and let you transfer iTunes music to Android like Samsung, HTC, LG, Sony, Moto, Nexus, Huawei, etc. without limits.