How to Move iTunes Library to New Computer
iTunes does a great job of handing all your media library for you, allowing you to manage your content with ease. What if you have got a new PC or Mac, but your old computer still has your iTunes library on it? Take it easy. Transferring your iTunes library from computer to another is a very simple task. Here we show you two different ways to move iTunes library to new computer without losing any data.
Method 1: Using Home Sharing
Note: To use Home Sharing between two computers, you must have the latest version of iTunes installed on both, and you must have an Apple ID.
Step 1: Start iTunes on both computers. Make sure the two computers are on the same home network.
Step 2: On the older computer, select "Library" then choose "Turn on Home Sharing" in the left menu. Enter your Apple ID and password, then click the "Turn on Home Sharing".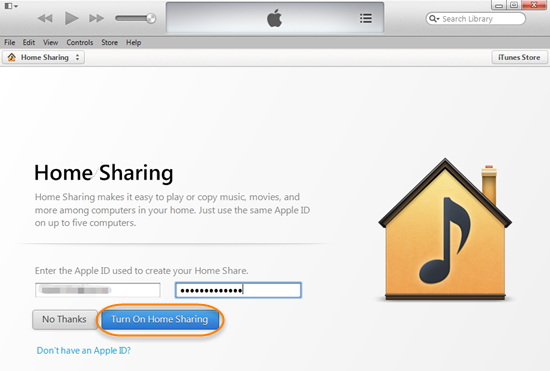 Step 3: Go to the new computer, click the "Store" tab and then select "Authorize This Computer". Enter the same Apple ID and turn on Home Sharing on this computer.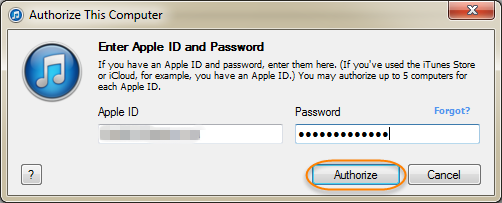 Step 4: A menu will appear with different media types. Select the content that you want to transfer and then click the "Import" button. Your files will begin copying to your new computer.
Method 2: Using an External Drive
Before transfer iTunes library to an external drive, click "Edit" and then select "Preferences" on a PC, or click "iTunes" and then select "Preferences" if you are using a Mac. Then click the "Advanced" tab to make note of the iTunes Media folder location on your computer. Besides, you can go to "File" > "Library" > "Organize Library" to consolidate your iTunes library to make your job easier.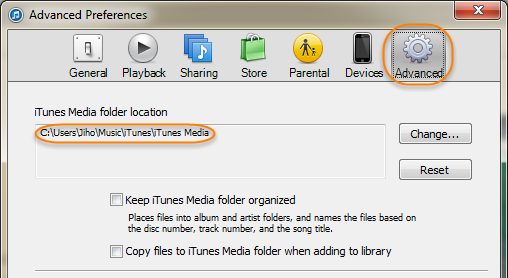 Step 1: Plug in your external drive to the older computer and make sure it has enough free space to store your entire iTunes Media folder.
Step 2: Navigate to the iTunes Media folder on your hard drive, then copy and paste folder onto the external drive. Once the copying process is complete, unplug the drive from this computer.
Step 3: Plug the external drive containing your iTunes library into the new computer. Copy the iTunes folder from the external drive to the exact same location on the new computer.
Step 4: Start iTunes while holding down the SHIFT key (Windows) or OPT key (Mac). In the pop-up window, simply click "Choose Library" and browse for the location where you copied the iTunes folder.